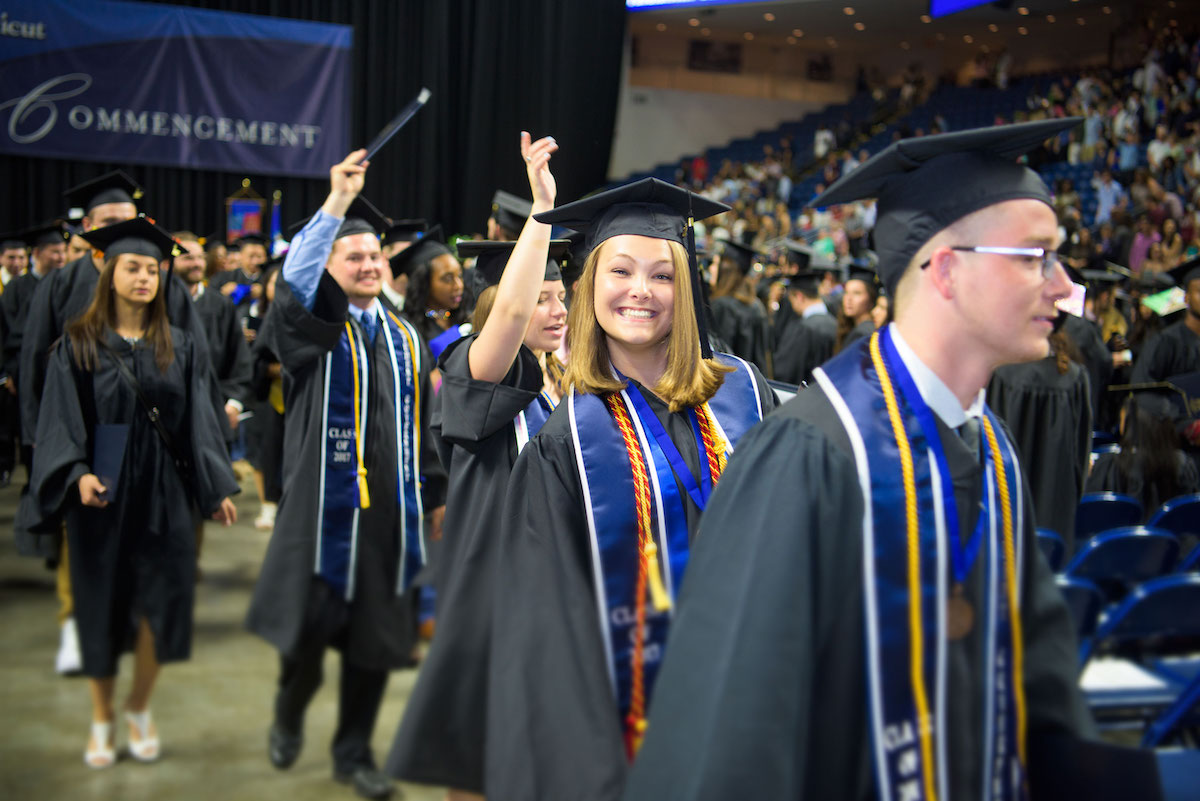 We are pleased to announce that Southern will hold its 2022 Undergraduate Commencement ceremony on May 20 at the Total Mortgage (formerly Webster Bank) Arena in Bridgeport, beginning with an academic procession at 10:15 a.m.
Commencement Day Guide
If you are attending commencement, please take a few minutes to read all of the essential information for commencement day!
Visit Guide
Eligibility to Walk
Undergraduates eligible to participate in commencement include those who graduated in the most recently completed fall 2021 or winter 2021-22 term, and students with at least 100 credits (including in-progress) who will be completing all remaining requirements in the spring 2022 or summer 2022 term. While Commencement is a ceremony to recognize recent and upcoming graduates in the 2021-22 academic year, it is not confirmation of graduation from your program and diplomas are not issued at the event. Visit OneStop > Graduation to learn more about graduation requirements and diplomas.
Commencement Registration
Any student who is eligible to walk will receive an email from commencement@southernct.edu and will be asked to create an account. Once that is done, students will be able to choose and distribute guest tickets, print the reader card required for commencement day and record their name so that it's pronounced correctly at the ceremony. There will be no physical distribution of guest tickets or reader cards.
Guest Tickets
Each candidate may choose up to four digital guest tickets, which may be distributed via email or printed out. Guests may use either the printed ticket or the mobile version. Each individual ticket is unique, so tickets may not be shared with multiple guests. If there are remaining tickets after the first allocation, they will be distributed at a later date.
Class of 2022 Senior Celebration
We are compiling an online Yearbook for the Class of '22, in which you can submit your senior photo and tell us about your favorite times at Southern. You may start adding your memories now.
Caps and Gowns
Candidates for the bachelor's degree must purchase a cap and gown at the university bookstore in order to participate in the ceremony.
Caps and gowns are now available online and in-person at the bookstore. Diploma frames are available from the bookstore website.
If you have questions regarding regalia, call 203-392-5270 or email SM769@bncollege.com.
Senior Class Survey
Annually, The Office of Career and Professional Development collects information about the graduating class. This information is used for the purposes of accreditation and will not be shared externally. Please share your current career plans and take a few minutes to complete the following survey.
Accessibility Services
If you are a student with a disability and require accommodation, please contact Accessibility Services at least 10 business days in advance of the ceremony.
If you have a guest with a disability who will be attending commencement and requires accessible seating, please contact Shabrell Sherrod (203-392-6537) at least 10 business days in advance of the ceremony.
The indoor arena is fully air-conditioned and can seat up to 7,000 guests. It is wheelchair-accessible and will provide services for guests with disabilities.
These services, available on a first-come, first-served basis, include handicapped parking, wheelchair locations with companion seating, sign language interpreting, and programs in large-print and alternative formats.
First-aid medical assistance is staffed by EMT professionals. The first-aid station is located on the first floor of the arena below sections 107 and 108.
Live Stream Available
Commencement will be streamed on Facebook and YouTube for friends and family who are unable to attend the ceremony.